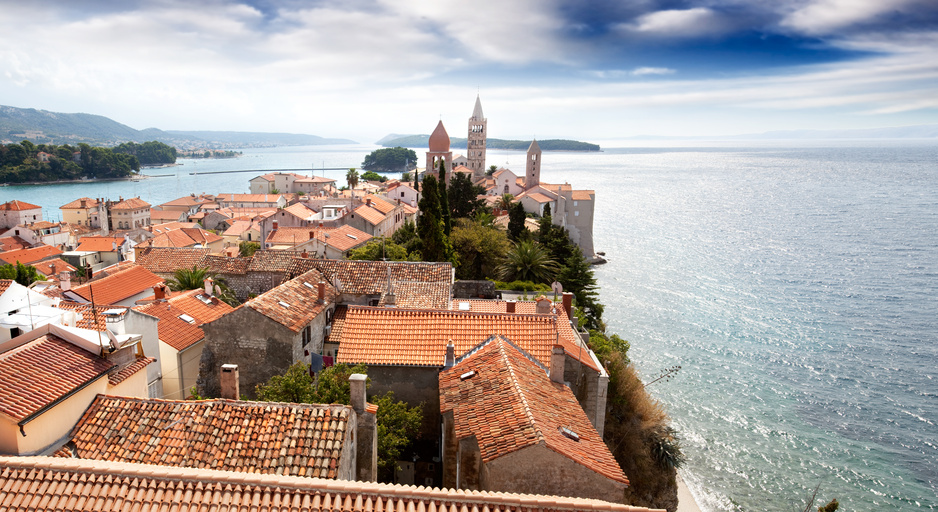 The charming old town and the blue sea of Arbe (Rab in Croatian) make it the right destination for those who want to enjoy a relaxing holiday by the sea. The town is located on the island of the same name and is reachable only by boat from the port of Jablanac. The 22 kilometers coastline surrounding the island hosts many worth seeing- and therefore worth photographing – bays and coves.
On the island there are some of Croatia's few sandy beaches, formed through a sandstone surface that covers the rocks below. This feature has made ​​this area particularly attractive to tourists who flock here every summer, while the mild Mediterranean climate is attractive throughout the year.
The town has an interesting historic center characterized by four bell towers which rises up to look at the sea, offering photographers lots of good shots of one of the best views in the world. In addition to the city of Arbe on the island there are seven other interesting towns: Lopar, Barbat, Banjol, Palit, Kampor, Mundanije and Supetarska Draga.
Taking photos in this little paradise is almost a requirement, but the glare of the sun on the sea can cause some problems. Here are some helpful tips to help you take some unforgettable pictures.
Polarizing filters are some of the things photographers should keep in their bag when in sea areas: in case of strong sunlight they prevent side-effects and ensure intense colors (for measurement of the exposure of your SLR you should use circular polarizing filters);
Color saturation and brilliance: polarizing filters ensure intense colors by eliminating unwanted light reflections – the sky looks bluer, the gray sand more natural;
Lesser mirror effect: filtering reflexes you'll remove mirror effects. Glare from water surface thus no longer pose a problem;
Wide-angle lenses for great views.
If you wish to travel far and fast, travel light… For this reason b-grip bh will be of great help, preventing you to bring bulky bags and having the camera strap hanging around your neck in hot days.